WELCOME TO THE STAR OF SAUAGTUCK
We are CLOSED for the season.  We look forward to seeing you in May 2024 🙂
If you would like to purchase GIFT CARDS or have any questions,
please call us 269.857.4261
or email julieziemann@hotmail.com
Leave a message and we will return your call.
Thank you
Make your Reservation Today For An Elevated View of Saugatuck and Lake Michigan on the 
Star of Saugatuck!
Sit back and relax – listen to the water running off the paddlewheels as you gently glide down the Kalamazoo River. See Saugatuck from the water, a totally different view from what you see on land, and take in the majesty of Lake Michigan.
Take one of our many daytime cruises, or go for a sunset cruise taking in the beauty of a sunset on Lake Michigan. Snack bars onboard serve cold pop, water, or if you prefer a beer, glass of wine or mixed drink and chips or candy to snack on.
It's fun for all ages – children see boats of every shape size, and you never know when we'll see a fox, deer, or possibly a bald eagle! Our narrations are fun and informative!  It's an opportunity to "escape" all the pressures of daily life, and take in the natural beauty of the area.  It's a time to enjoy the pleasure of friends and family who have come with you on the trip; you may even make some "new friends" along the way!
The Star II is U.S. Coast Guard certified and annually inspected, and has all its safety equipment onboard – 100% adult and child life jackets, ship-to-shore radios, cell phone, and radar equipped. Our crew is dedicated to your health and safety.  We are trained in First Aid, CPR and emergency situations.
The Saugatuck Chain Ferry, Diane, is the only remaining hand cranked chain ferry of its kind remaining in the United States.  Diane is guided across the Kalamazoo River by a chain that is connected to both sides.  It is hand cranked by trained operators and departs each dock every 10-15 minutes based on demand.  The chains have a considerable amount of slack built into them, in order to sink below the surface as the ferry moves away, allowing other vessels to pass without becoming grounded or trapped.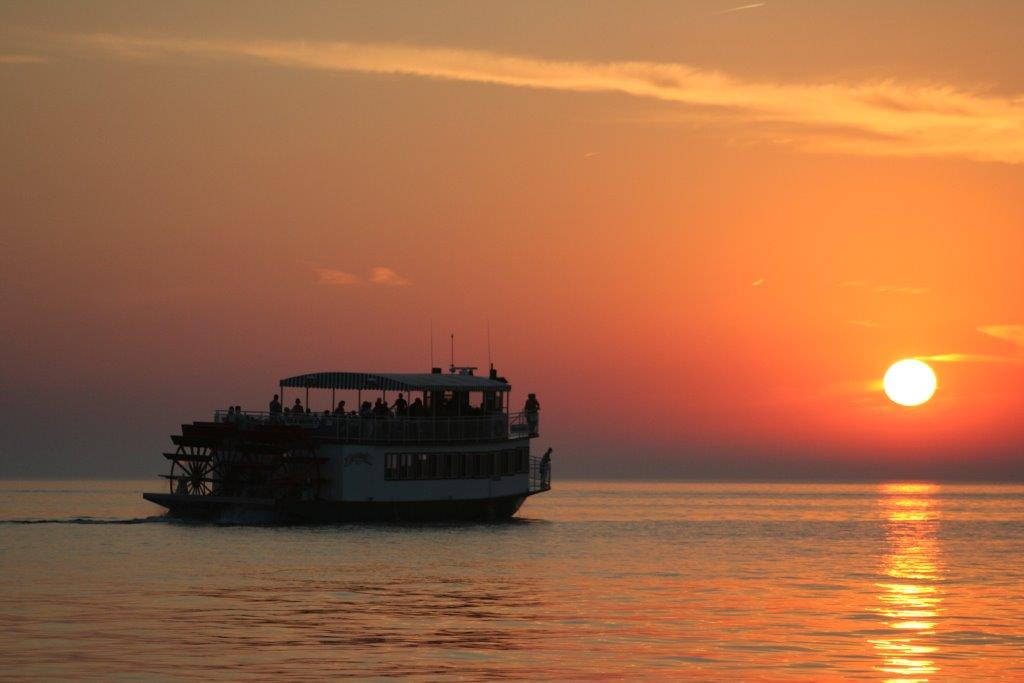 Chuck's Big Adventure in southwest Michigan: Boating in Saugatuck By Chuck Lofton
MICHIGAN, USA — Saugatuck, Michigan, has been a destination for travelers since the end of the Civil War. It's true that art lovers have made this one of the Midwest's most popular stops for painting, glass and ceramics — but this town simply isn't the Michigan Mecca that it seems to be without water.
Sitting on the shores of Lake Michigan, less than 1,000 people call this place home. But in the summer, on any given day, 10,000 people are here. Many of them are in boats they own or hop on for a memorable ride.
To make your experience more enjoyable, please read:
Cruise Tips: To make your experience more enjoyable, please read
jabel
All cruises run on Eastern time and leave the dock on time
Cruises are apx. 90 min long unless otherwise specified & are subject to change
Entering Lake Michigan is at the Captain's discretion based on weather conditions
Allow extra time for parking, it can be a challenge (see info on Interurban below)
We cruise rain or shine, unless there is lightning
No refunds unless we cancel the cruise
Concessions are cash only on the boat, ATM on site
The lower level is wheelchair accessible
We have two restrooms on board
Seating is assigned based on availability
Groups must be present & together
We have two bars serving drinks & snacks aboard
Drinking age in MI is 21 yrs old, must have a valid ID
Shirt & shoes required, pants too
Please…
NO outside food or beverages allowed, not even water
NO pets, no matter how cute and small
NO weapons allowed – bags are subject to search
NO smoking or vaping
NO strollers, you may leave them in the building
If you need transportation to get to the Star of Saugatuck, please contact the Interurban, a demand response public bus system providing transportation for Saugatuck, Douglas and Saugatuck Township. For bus information visit: http://www.saugatuckinterurban.org/
Enjoy One of Our Fantastic Themed Cruises or Reserve a Group Charter!
Just click on a theme below for more information and to reserve your place today.

 Share your photos with us by using the hashtag #PaddledInSaugy!
A Beautiful Boat Ride tour of the nice houses along the River and a trip out into Lake Michigan . Didn't do the sunset cruise but I am sure it's awesome . Nice courteous staff on Board the Boat . Highly recommend.
Lovely excursion on Lake Michigan. 90 minute tour. Staff were all very welcoming. Appreciated being on the upper level and in the open air. Beautiful Michigan sunset scenery. I liked the music mix – 60s, 70s, 80s classic R&B and Pop. Thinking of coming back in the Fall to get a view of Michigan arrayed in her Autumn Glory.
Fun activity to do if you're visiting the west side of Michigan. The paddle cruise boat is in great condition and the crew gives safety checks. The scenery is beautiful and you cannot believe how gorgeous the sunsets are out on the water.
Experience the beauty of Saugatuck from the lake.