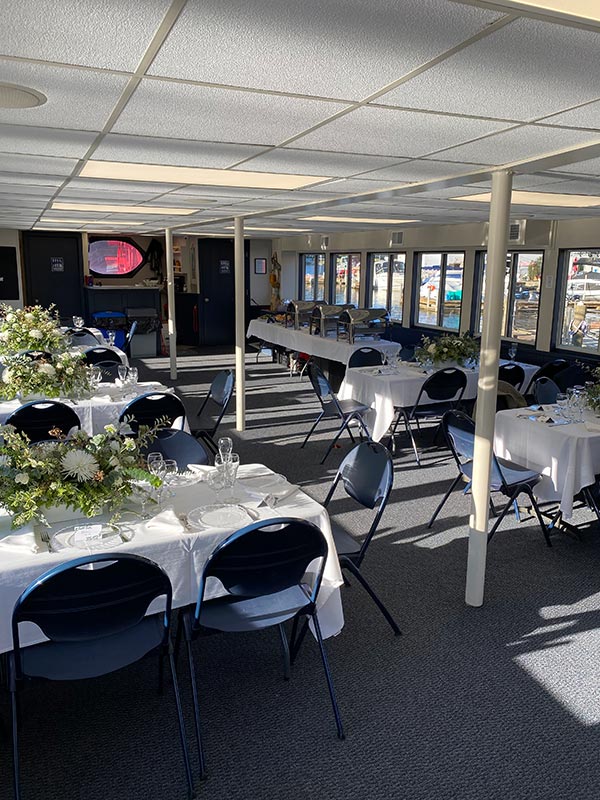 The Star of Saugatuck has differing levels of accessibility to those who may have some limitations. It is our intention to be as straight forward as possible with accessibility of our facility and vessel in order for you to make the best and most informed decision when choosing to visit us. Please keep in mind that day-to-day operations can change depending on weather and prior bookings.
Please use the below information to assist you with answering your accessibility questions.  Or please call our office at (269) 857-4261 and we would be happy to assist you further.
Wheelchairs, strollers & other wheeled devices
Boarding; You will go through the building to get to the dock.  You will board the vessel via a gangplank.  Once on the boat, there are eight steel stairs to get to the upper deck and two carpeted steps to the lower deck.  We have a ramp we will place over the steps to get a wheelchair to the lower level.
Our vessel can accommodate wheelchairs no wider than 27" total width.  The upper level is not wheelchair or scooter accessible.
Because extra time may be needed to board some guests we ask you please be sure to check in with a team member prior to boarding if you are in a wheelchair, scooter, or accompanying someone who is. When possible, we do our best to pre-board these guests and it is our policy that a trained employee accompanies every person in a wheelchair during boarding.
No strollers please, you may leave them on the dock.
Hearing Impaired Guests
A written version of the tour narration is available upon request and must be returned on completion of the tour.
Service Animals
We only allow service animals, a dog that has been individually trained to do work or perform tasks for a person with a disability.  PLEASE NOTE, under the ADA animals whose function is to provide comfort or emotional support do not qualify as a service animal.
The service or assistance animal must be housetrained and must be kept under control at all times while on board the Star of Saugatuck.  We may ask that a service or assistance animal be removed from the property if it is not housetrained, if it is acting out of control and no effective action is being taken to control it, or if it poses a direct threat to the health or safety of others.
Parking
We do not have a parking lot, parking is on the street only.  Please allow extra time as it can be a challenge during busy times.
Miscellaneous
There are handicap accessible bathrooms in the building and on the vessel.
The boat ride is apx 90 minutes long.